I was quite excited to see the new challenge at a Vintage Journey, Dies and Distress, my two favourite techniques. However, when I opened the Die cupboard I was spoiled for choice and really couldn't decide which to use. There were even dies I had forgotten I had bought ( and never used!)
Sooooo I thought what I need is an album of all the TH dies I possess and a quick flick through when I need a die will remind what I have. The dies all looked a bit sad so I collected themes, with embossing folders, and want to make a page for each idea.
The album would be 7 x 6 ins, made from grey board, but I am not sure how many pages I will make (AND new room for more dies.) So I decided to make the pages first…….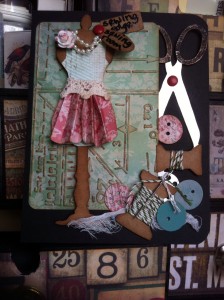 The first page was easy because the sewing room and sewing edge fitted perfectly with the folders.Some DI and a touch of treasure gold finished it off.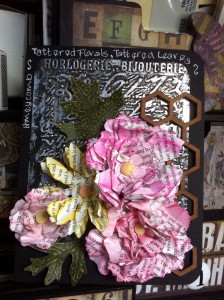 I love making the Tattered flowers and recently bought Tattered leaves and the embossing folder. The industrial background looked a good contrast. I made the flowers from book pages and embossed the pink brads with Distress embossing powder for the centres. I discovered less is more, heat the brads then dip in the powder, quick flash from the heat tool and a second dip worked best. The leaves were cut from kraft core'dinations and the honeycomb was added at the side.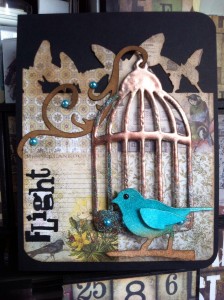 The third page was titled Flight, using Caged Bird, On The Edge. Butterflies and one of the letter dies. The new Wallflower papers seemed to fit as the background. I embossed the cage with Tarnished Copper, the bird was DI with Peacock feathers and clear embossed. The butterfly die cut the edge of the paper.I die cut an elegant flourish to hold the bird cage,plus a few turquoise pearls added here and there. I was pleased with the look.
My challenge now is to make the next 10 pages!!!