This little shelf unit was fun to make. The mdf pieces slot together easily and using Daisy's Glue they are firm.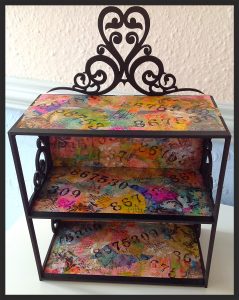 I had made lots of Gelli plate mono prints on white tissue paper and used these to collage onto the shelves before assembling the unit. Heavy gel stuck the pieces, the tissue edges became invisible and allowed the golden glow from the mdf to add to the colour.
I added stamping with Andy Skinner numbers and a swirl stamp to enhance the filigree.
The sides and back were painted Matt black.
Its a great size to hold my growing collection of passport journals!
hugs
Jan x