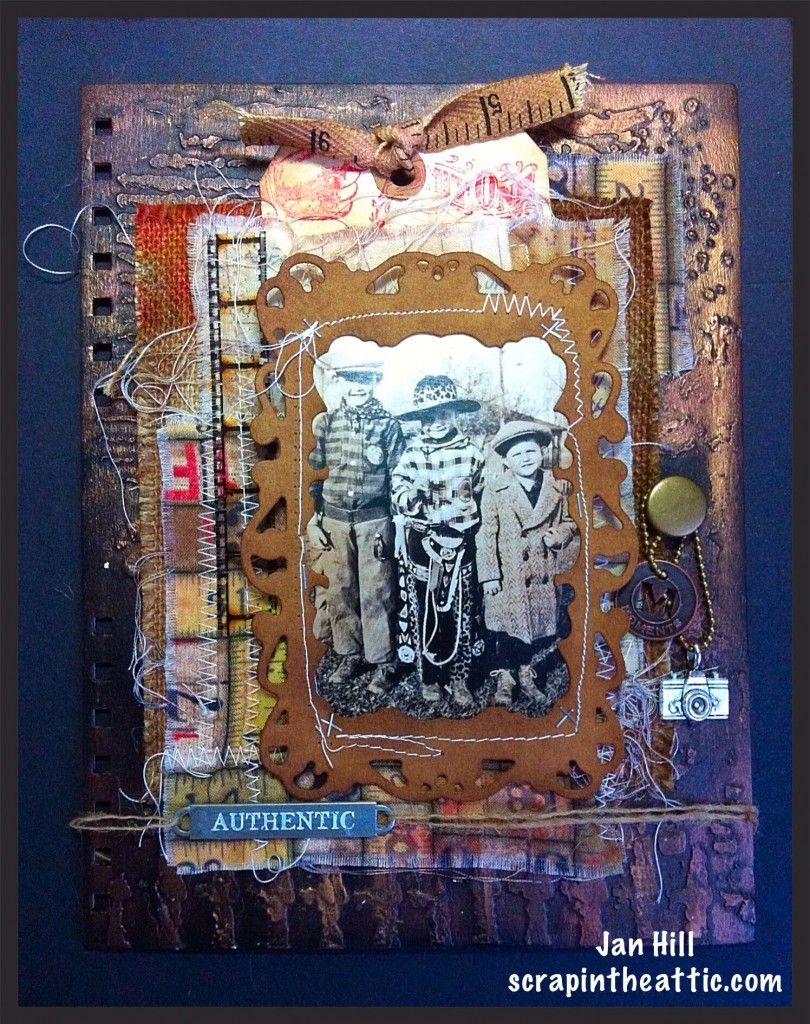 I have had a fun afternoon playing with Tim Holtz frayed fabric technique. I had some of the charm squares from Eclectic Elements range. I sewed on some film strip, a stamped and inked tag plus some charms. I followed the instructions in Compendium of Curiosities 3. Sorry I can't tell you any details because I am entering Challenge 19 on Linda Ledbetter's blog. Check out the DT work there, lots of inspiration! There are some great prizes to be won from Inspiration Emporium.
I decided to use the fabric as part of the cover for a new journal. I am very hesitant to start the journal ( because it's so new and clean) so this was a good start.
I used grunge paste through a stencil to get some background texture then covered it in black gesso. TOTAL disaster the gesso splurged out over my jeans and favourite jumper!! No I wasn't wearing an apron, but then I wouldn't want black over my Tim apron either. So quick change and clothes in the washing machine. Sorry I forgot to take photos after the incident.
I highlighted the texture with Treasure Gold, Renaissance and Oxonite, I think the colours complement the fabric.
I love this Found Relatives photo of the three little boys. The guy in the cowboy outfit reminds me of a cowgirl set I had in the 1950's. I gave them a Kraft Card frame to show them off.
I am also entering Challenge 25 at A Vintage Journey. The challenge is To Use a Portrait, sponsored by Country View Crafts. I think the young cowboys are a great portrait. Check out the DT, some beautiful projects on the blog.
I hope you enjoyed looking at my work. Please leave a message, I do appreciate your comments.
Jan x