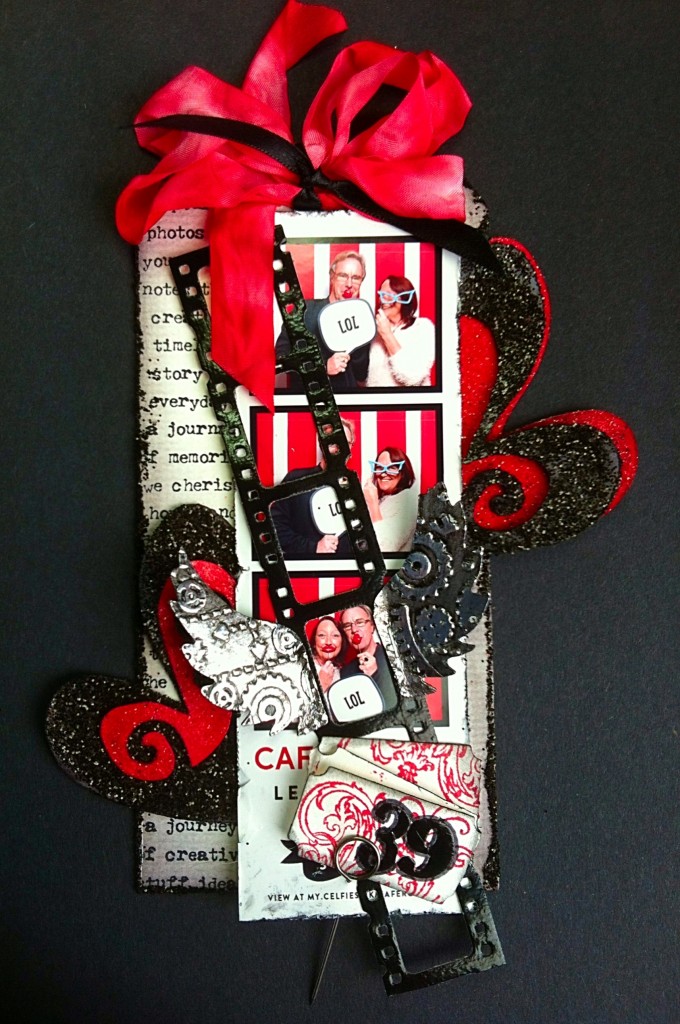 I was excited to see the latest challenge at A Vintage Journey, "Love is in the Air" set by Astrid. There are some amazing creations made by the Design Team.
We had been invited to an opening night at a local restaurant and had taken these fun photos in the Photo Booth. I wanted to scrap them for a while but nothing seemed to fit until I saw the challenge.
I thought I would stick to the colours, red, white and black on the photo. I cut a tag from watercolour card and used a long thin stamp from Tim's 'Stuff to Say'. I glittered the edges of the tag with black (Yes it went everywhere!)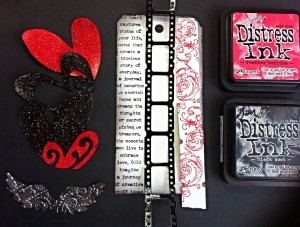 I die cut the heart from Tim's Heart Wings, then inked and glittered with rock candy on the red and black glitter on the black heart. The wings were cut from plumbers tape, embossed with cogs then painted black.
I used Mini Filmstrip and Mini Tickets die with shiny black card for the film strip and watercolour paper for the tickets. I was inspired by Jennie's Destination Inspiration: Just the Ticket. I added a shiny black card 39.
The wings represent me and my husband flying into our 39th year of marriage!
I finished the tag with a floppy bow ribbon dyed with Festive Berries and tied with a piece of narrow black ribbon. I mounted the photo on foam strip to raise it and so I could tuck the hearts underneath.
What a mess left on my craft sheet, glitter, ink, glossy accents everywhere – I really enjoyed making the tag!
Please leave a comment, I do appreciate your thoughts.
Jan x