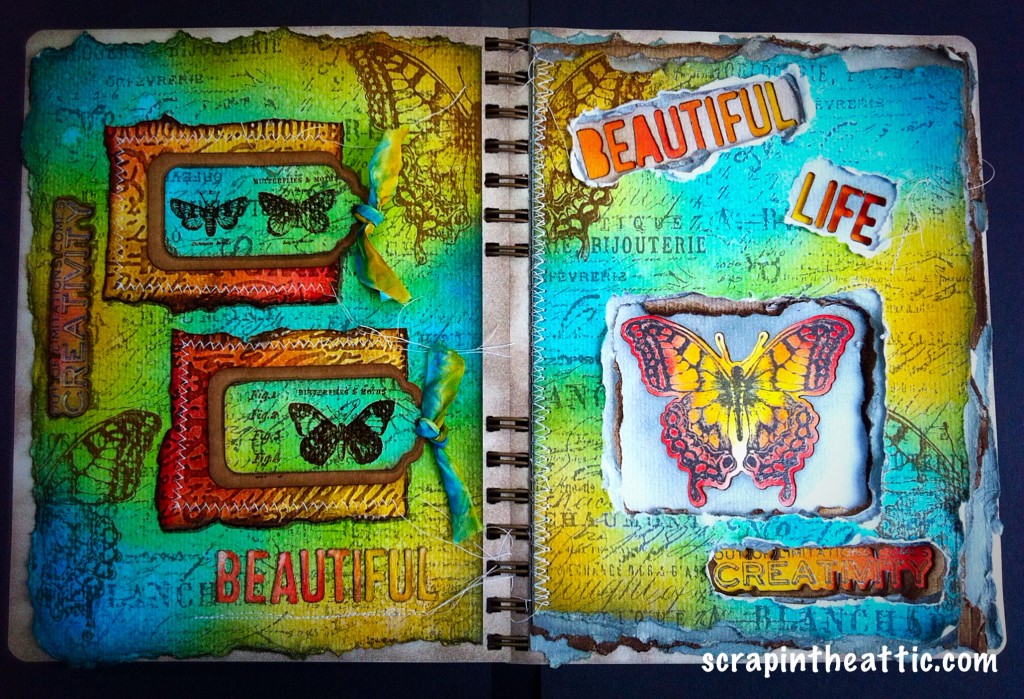 I was soooo excited to be offered the opportunity to be a Guest Designer at A Vintage Journey blog, Tim Holtz inspired???? Perfect for my aspirations …..
Then I found out it was a TH inspired Art Journal page….. HELP!
Way out of my comfort zone!
but Art Journalling is all about experimenting and trying out new stuff?
Then after the initial panic I got out my Tim stamps, die cuts etc and the ideas started to flow, hope you like where it took me.
I wanted to explore a new Framelets/Stamp set and Thinlet Words I bought and haven't really used. I have seen some sculptures using books and found the theme of layering interesting. However, using this theme rather than building up cut through and reveal, delving down into layers.
This is what happened, I had to do more planning than I usually do to construct the cut outs:
Once I got out my Tim stamps, DI and die cuts I really enjoyed the challenge, this is what I created: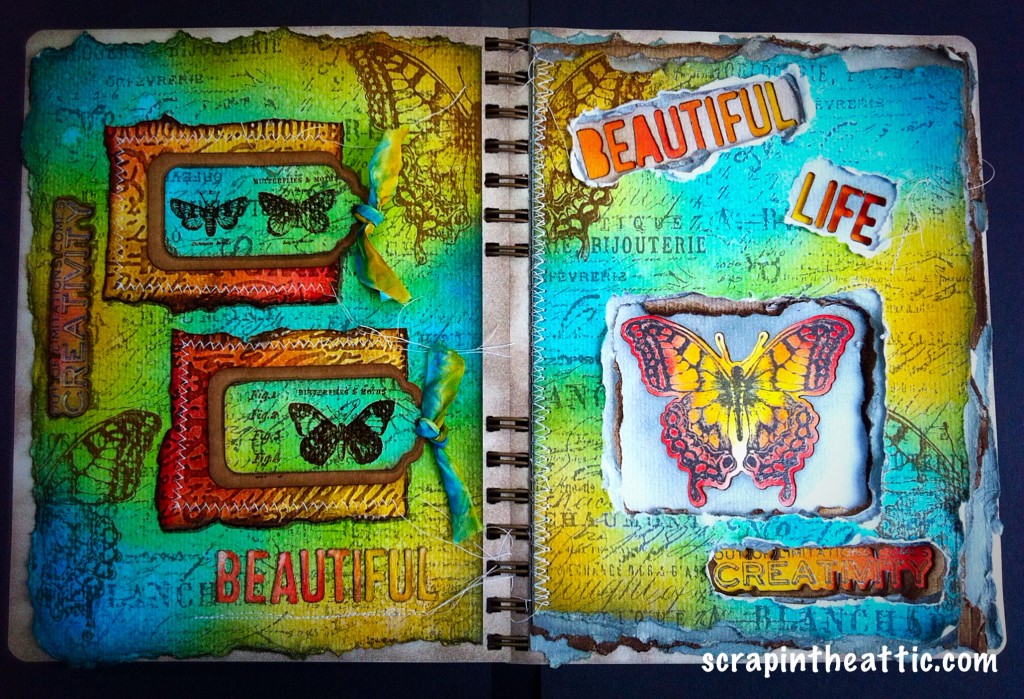 I used watercolour paper to build up 4 layers on the right hand page. I wanted to experiment with the Framelet/stamp and Thinlet sets.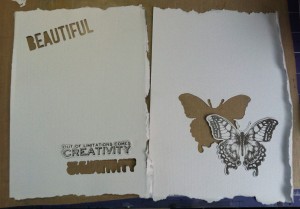 Layer 1  The butterfly and Creativity (600189) were stamped and die cut to reveal the Journal Page. An area top left was DI* ready for layer 2. Hickory Smoke was inked around the edges.
The butterfly and creativity were stamped ( through layer 1) with black Archival, clear heat embossed then inked with DI blend* ( Abandoned Coral, Picked Raspberry, Mustard Seed, Fossilised Amber) on the Journal Page.
Photo showing layers 1 and 2 in progress.
Layer 2  Creativity and Beautiful (Adventure Thinlet set) were die cut.  Ground Expresso was inked around the edges. An area was inked * for Life in the next layer.
Layer 3   Aperture windows were painted with a waterbrush then gently ripped out (love the textured edge) for the butterfly, creativity and beautiful then Life die cut. Hickory Smoke inked round the edges.
Photo shows layer 3 and masterboard in progress.
Layer 4  I created a masterboard using DI, (Peacock Feathers, Cracked Pistachio, Fossilized Amber, Mustard Seed and Mermaid Lagoon ) then used Papillon, Perspective and 660189 Framelets with Stamps, inked with Ground Expresso. More apertures were ripped out and the edge ripped and inked with Vintage Photo.
Left Page I used the masterboard then built some layers as contrast. Creativity and beautiful cut outs were inked * and used. I dry embossed ( French Script Texture Fade) on watercolour paper to create 2 pockets. I dry brushed on Vintage Photo to enhance the lettering. The tags, kraft paper and masterboard were stamped with Papillon small butterflies then heat embossed but too pretty to be hidden! I dyed silk ribbon using Distress Markers to match the tags.
I finished by sewing the pockets on the left page and the pages together on the
Phew, complicated but fun to create, hope you enjoy looking at my journal which now has covers and 4 pages!
I hope it inspires you to have a go with your journal, Tim style.
Hugs
Jan x