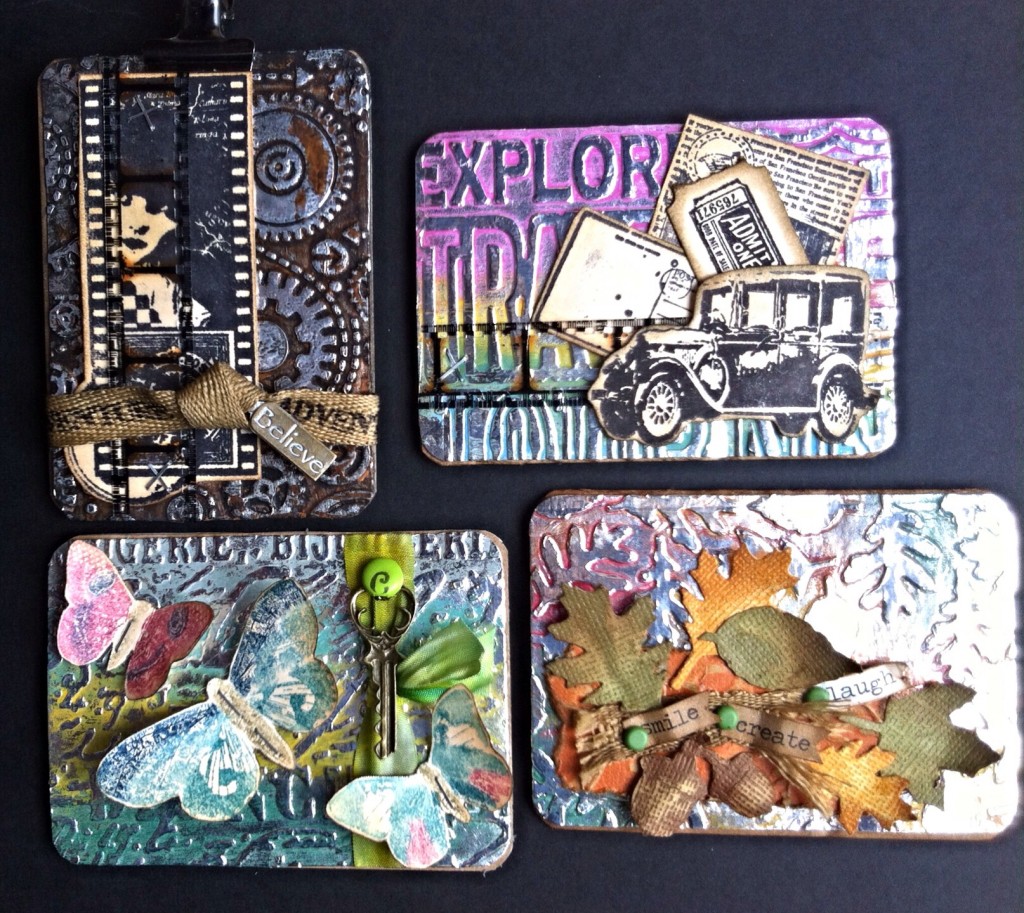 My first venture into making ATC (Artist Trading Card) was inspired by A Vintage Journey Challenge 13, particularly Richele Christensen's creations.
I had some friends in mind when I was thinking about the designs and I wanted to reflect their interests.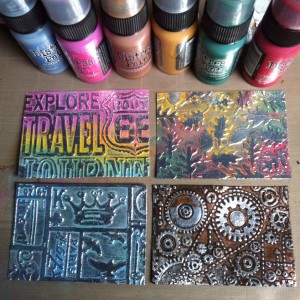 I Covered card with foil tape and then dry embossed each card. I chose a TH embossing folder for each friend, I had steampunk, Ruth had American journey, Carol had butterflies and Marilyn had Autumn leaves because she likes countryside walking.
I used Distress Paints to create Tim's Industrial background technique. The colours are meant to reflect the themes. I discovered that each colour has to be painted and wiped off individually otherwise the colours mix!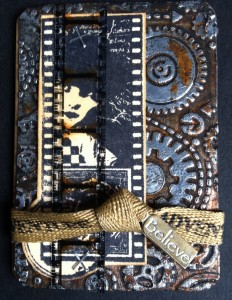 My ATC with the Steampunk theme had a Paperartsy stamp and TH film ribbon stapled on. I stamped Adventure onto the band and added a metal tag to the knot.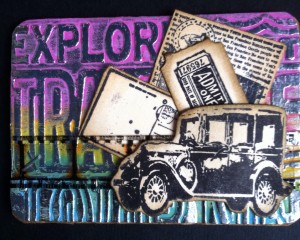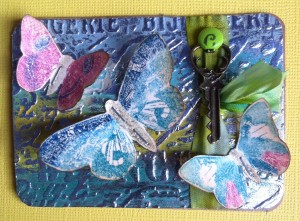 Ruth is going on holiday to America soon and I selected USA and holiday stamps. Her husband is a vintage car fan, the jalopy is travelling along a film strip ribbon road.
I chose butterflies for Carol, one of Tim's stamps. I love inking with Distress Markers and then huffing on the stamp! I dyed the crinkle ribbon with Distress Stain and added a key. I stamped a C on the brad holding the key. I changed the background from the original embossing folder, choosing one which matched the butterfly stamps.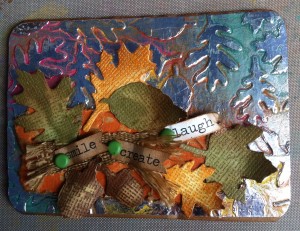 The last ATC had Autumn Leaves and acorns from a TH die cut from cor'dinations paper, sanded and inked. I embossed orange cor'dinations with the background die and frayed ribbon for texture. I added some chit chat stickers with tiny brads.
I really enjoyed making my first ATC's and maybe they won't be the last. I used some Tim techniques and lots of his products. I hope my friends like their cards!