What a great invention this folio was! It is perfect to house collections of photos, bits and bobs, ephemera, journalling and wherever your imagination takes you. However, there is so much space it took a long time to get the pages organised and this will be an ongoing project.
I am going to enter Challenge 23 from Compendium of Curiosities on Linda Ledbetter's blog. The challenge from Tim's book is on page 34 of volume 3, such a great reference book.
The blog is photo heavy, hope you enjoy looking!
Inside the folio
   When you open the cover there is a map of Australia leading on to the wet tropics and lots of photos and things I collected when we visited. I did some journalling on airmail envelopes, snippets from my travel diary.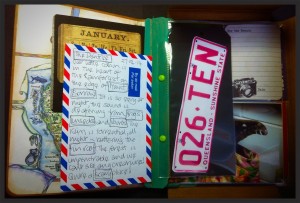 I loved the slogans on the car number plates for the different states.
I used some Project Life photo pages cut down to make fold out flaps. The are some cards for further journalling.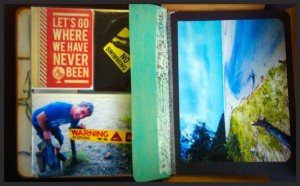 I still have room for a couple more pages!
The sponsor for the Challenge is Inspiration Emporium, there are some great prizes!
I was inspired by the amazing Design Team, they really were all inspirational, check out Lindas blog to see for yourself.
Hugs Jan x