We had a fantastic time cruising round the Whitsunday Islands, off the coast of Queensland. We snorkeled round Hardy Reef from the pontoon. The colours of the fish and corals was amazing, so vibrant and so many irridescent shades. We get so few photos together this seemed the perfect picture for the 1-2-3 Challenge Blog.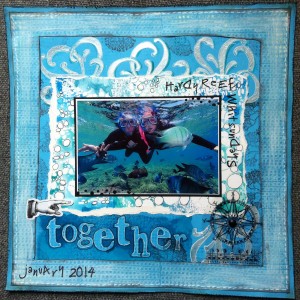 The colour was Blue
The word was Together
The Technique was masking.
I added a layer of pearlescent texture paste through a stencil to create waves at the top. I used a bubbles stencil to mono print the photomat to look like the air bubbles from our snorkels. I randomly inked stencils to create a layered background. I used grunge letters as a mask to make the title, and sprayed with Dylusions inks then removed the letters. The seaweed is a prima stamp and the compass Tim Holtz. The tissue tape and sticker are from IKEA. The edge is finished with faux stitching to pull the design together.