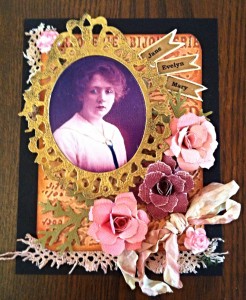 When my beautiful Granddaughter, Arabella, was born my daughter decided to give her a middle name, a family name, Evelyn. This is a photo of my Grandmother, Jane Evelyn Mary Jones, Arabella's Great Great Grandmother! I think was taken around 1914. She always seemed very serene to me as a child, I never heard her shout or get angry. We had fun together, she could still touch her toes in her 70's despite severe rheumatism.
When Challenge 12 came up on Compendium of Curiosities Challenge for Tim Holtz Distress Photo Tinting Technique this seemed the perfect photo. You need to read Tim's book, The Compendium of Curiosities Vol 3, page 41 to find out details. There are some great inspiration pieces from the design team on the blog. The Funkie Junkie is sponsoring prizes too.
I used Tim's embossing folder, French Script , I DI with Vintage a Photo, Tattered Rose, Tea Dye, Picked Raspberry and Victorian Velvet, then highlighted with Treasure Gold. The lace and ribbon was stained with Victorian Velvet, Spun Sugar and antique Linen.
The roses were made from Cor'dinations cut from The Pine Cone die ( she loved roses). The ornate frame was heat embossed and inked with Black Soot. I used computer generated words for her name.
Making this new page for my album brought back lots of happy memories.