Today is the start of the March Challenge from Our Creative Corner!
Create something out of any kind of junk and re-fashion it either into something useful, functional or beautiful for                                                        the JUNK IN YOUR TRUNK challenge this month.
Candice, our host, is leaving the challenge open to your interpretation of what constitutes "Junk"
I am leaving the challenge open to your interpretation of what constitutes "Junk".
It may mean a set of hideously patterned china that you want to smash up and a make a mosaic…
It may mean reams of patterned paper you have lying around that you turn into a collage masterpiece…
It may mean doing something with skeins of wool that you intended to make a a sweater with…
It may mean doing something with rusty keys,nuts and bolts and random pieces of wire that you pick up off the street…
It may mean using the strings on an old harp to make a cheese-cutter…
It may mean making a robot out of Aluminium Roof Flashing!!!
You can create whatever you want to, however you want to and with whatever you want to.
The only rules are that your project MUST contain something that you have reclaimed or recycled. "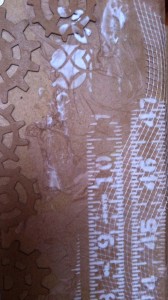 I started the transformation by adding die cut cogs from TH on the edge range. I used fine corrugated card so they are quite chunky. The door was covered in glue then thin tissue paper was scrumpled on the make ridges. I used Grunge Paste through a range of stencils to make lots of texture. I added sticky mesh for a different texture.
Where the door overlapped to close a band of embossed Plumbers Tape was run between.
I started collecting metal embellishments from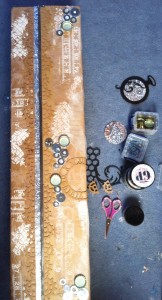 my stash, bottle tops, buttons and beads to stick on the front. I used TH clock dies with Plumbers Tape inserts which had been dry embossed with cogs and gears then painted black and baby wiped. ( My favourite technique!)
When I was happy with the arrangements I stuck it all down with Finnabair 3D Paste and added her glass beads to any excess glue around the embellishments.
It looks a real mess at this point! BUT once it is all painted with black gesso then all the highlights tickled with treasure gold WOW!

 This is how I found the CD cupboard in the loft. It had been my daughters 20 years ago! I found some old CDs of her favourites as a teenager.
I now have a place to keep my dies ( And room for more!)
I used Tissue Tape on the edge of the shelves.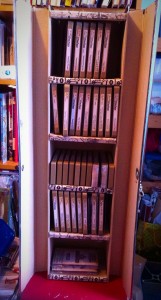 I hope you have been inspired to transform some of your own junk and play along at Our Creative Corner.
The sponsor this month is Crafty Individuals,
you could be the winner or make our top three!
I am looking forward to seeing what you create!
Please leave me a comment, I appreciate reading them,
hugs
Jan x