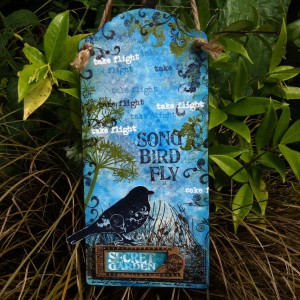 We have a pair of blackbirds nesting in our wisteria and they are fun to watch flying in and out.
I was inspired to have a play at Tim's distress paint marbling techniques after reading Sandy's excellent demo on A Vintage Journey blog. I tried them all but sample 4 looked most like the sky effect I was trying to achieve.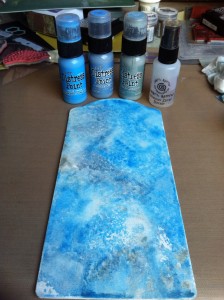 I used it for a background on gessoed,grey board to join in the Challenge 9 at A Vintage Journey, Use Every Stamp in the Set. I used Paperartsy Hotpicks HP1005 because of the bird stamp.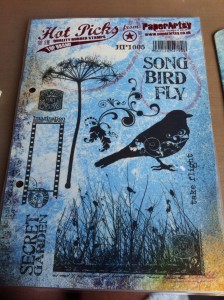 I used the plant and swirl stamps around the edges, some in Peeled Paint DI, some embossed with Olive Wow powder and black Archival Ink.The words, take flight, were repeatedly stamped in the same colours from the background, plus black Archival and white embossing powder. The grasses were stamped in Archival Potting Soil but I didn't like the effect so overstamped in black.The small stamps are in the grasses if you look carefully. I also spritzed distress markers in picket fence and pumice stone to blend the edges.
I clear embossed Secret Garden on some marbled backing paper then inked over to reveal the letters, to give the effect of secret writing.
I have the PA die of the film strip so die cut and stamped the image into kraft card. The blackbird was stamped in Archival over some more of the background paper and then clear heat embossed.I tied brown string to use as a hanger to link to the kraft card.
Overall, I am pleased with the effect and used 9 stamps. Hope you like it too!