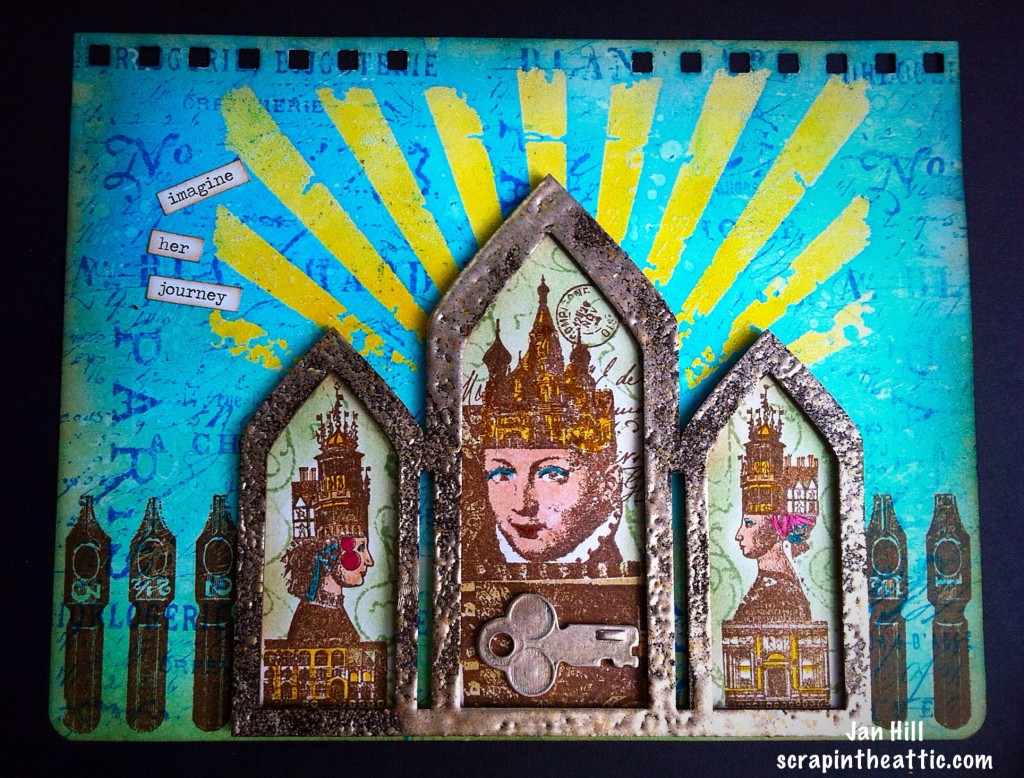 Welcome to our May Challenge at The Mirror Crack'd. Our theme for the month is a Triptych.
A triptych is a work of art that is divided into three sections, or three carved panels that are hinged together and can be folded shut or displayed open.
Our host is Rita Marie, and she will be choosing our Winner and Top 5. Instead of a physical prize this month we would like to offer our Winner a Guest Designer spot for a future challenge.
 We hope our fabulous Design Team can inspire you. Please pop by their blogs and show them your appreciation
I was inspired by the eclipse of the sun on March 20th! I had no idea what was going to happen on this journal page when the sun ray stencil just seemed to be the right thing. I had watched a programme on TV about the ancient legends surrounding the eclipse, the Vikings, Hindus and Pagans believed that the sun was eaten by their Gods or creatures sent to eat it by Gods. When I remembered a stamp set by Lyn Perella in my stash I imagined the lady with the secret smile was a sun eater! The two other ladies are watching the eclipse from their homes.
Soooo….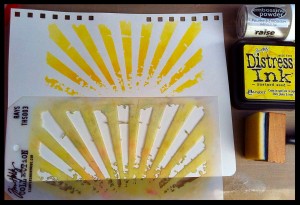 I began by inking the suns rays from a TH stencil on to my art journal page. ( Now on page 2 so I am getting adventurous!) I clear embossed over the yellow to create a resist for the next layers in the design.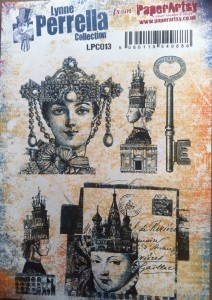 I love over the inking part, blending the colours together to create the sky. I used Tim's spritz and flick water technique to add depth.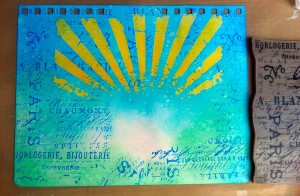 I stamped one of my favourite background text stamps for more interest.
Then came the ladies, The Sun Eater and the two Observers. They were stamped and coloured. I cut the niche size from stamping card and filled the space. I coloured them with Distress Markers.
The Tryptich was from a Tando set. I embossed with a mixture of UTEE colours from Frantage. I used Tarnished Silver, black and smudges of gold. I wanted a distressed, tarnished look, rather than smooth on the frame. I stamped a series of pen nibs because the Observers will write their thoughts in their journals. The Sun Eater plays a key role in the eclipse so I added a key to her niche. I finally added some small talk words from Tim Holtz to finish the page.
I hope you enjoyed my take on the event! We hope our fabulous Design Team can inspire you. Please pop by their blogs and show them your appreciation. Please check out all the DT work at The Mirror Crack'd, I hope you will be inspired to enter the challenge.
Please leave me a comment, I do appreciate it,
Hugs
Jan x