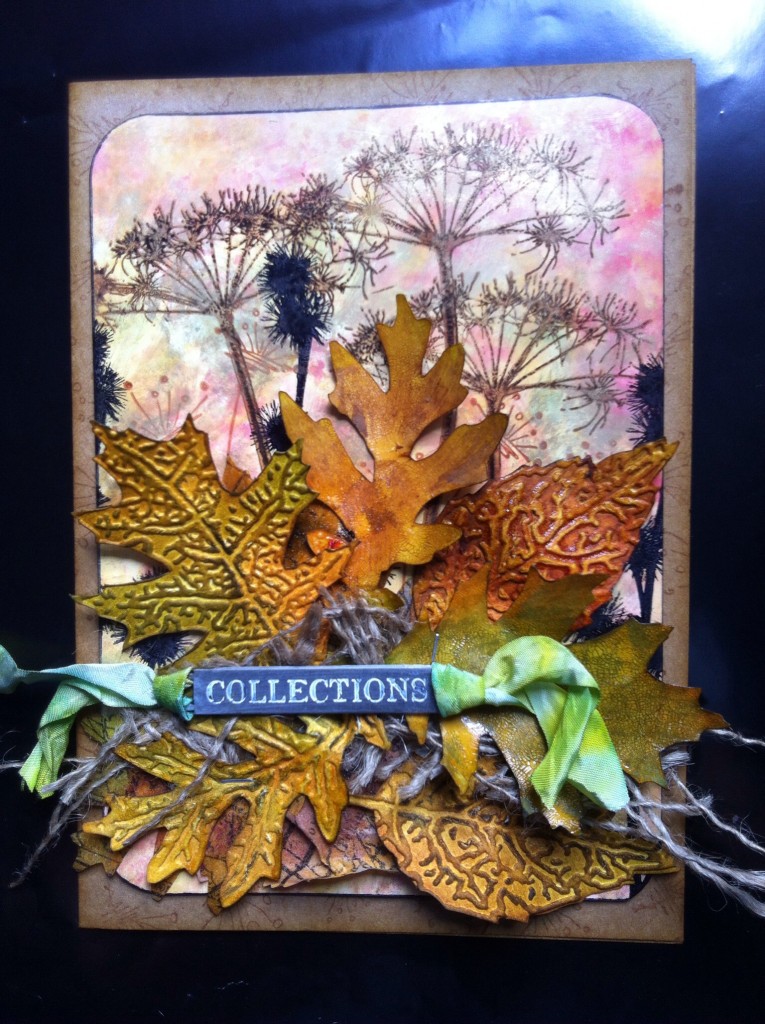 I love Autumn colours, especially the leaves on our Acer trees. We usually take a trip to an Arboretum to take photos. This inspired the pile of leaves.
Tim Holtz products are great for the colours I needed, plus the die and Texture Fade, my piece is totally Tim apart from the stamps!
I used Alcohol Ink to create a background of swirling Autumn colours with gold. I stamped some Paperartsy and Jofy seed heads on top with Archival ink.
The leaves were cut out using Tattered Leaves die. I used card and Postale Tissue Wrap. The Tissue was painted with Distress paint ( Wild Honey, Mahogany, Pine Needles and Vintage Photo)and then embossed with Frosted Crystal Antiquities. The card was DI inked using a variety of colours, Spiced Marmalade, Crushed Olive, Peeled Paint, Vintage Photo and Scattered Straw.
The leaves were either embossed with Textured Leaves Texture Fade or painted with Distress Crackle and then stained.
I assembled the piece with some hessian ribbon and a word band.
It evokes the Autumnal feel for me, the Autumn chill in the mornings, mist and then the sun breaking through.
I am entering Challenge 15, The Colours of Autumn on A Vintage Journey.
So excited to get a Pinworthy badge!