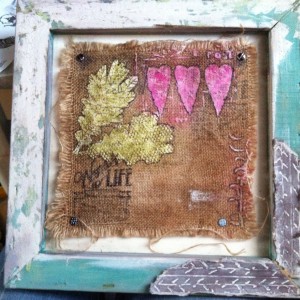 This week I have been playing with textures for a "Get some texture" challenge on A Vintage Journey blog.
First I stripped the back frame of a 12×12 canvas then painted it with TH distress paints, crackle glaze then inks. After sanding bits I was pleased with the result.
The inspiration for the design came from the tattered leaf die and texture fade, only just discovered the folder to match the leaves! So I made roses from tattered flowers and put glossy accents on for dew drops. The tattered leaves were die cut from kraft core'dinations then embossed.
The hessian (burlap) was washed, stained and inked the I put texture paste through stencils. When it was dry I inked and outlined. I stamped "Wonderful Life" with archival.
I embossed grunge paper with Travel Signs texture fade, then coloured the words are tyre tread with DI. Decorations Antiquing Cream was painted over, dried then wiped off the raised areas, another new favourite!
The photo is in the Daintree, near Cape Tribulation in Australia. We had to have a 4×4 to deal with the unsealed roads and frequent flooded creek crossings! I am really pleased with the result, hope you like it x