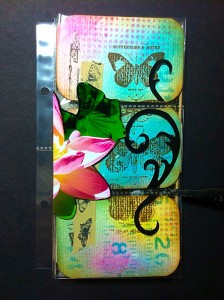 I have had some of Tim  pocket pages in my stash and not used them, so I was pleased to see the new challenge on Linda Ledbetter's blog. The challenge is to follow Tim's instructions on page 36 in Compendium of Curiosities 3.
(The pockets do not photograph well, sorry for the poor quality!)
The challenge is sponsored by
The Funkie Junkie Boutique
, there is a great prize!
Hope you enjoyed looking at my creation, I have used lots of Tim Holtz products and techniques.