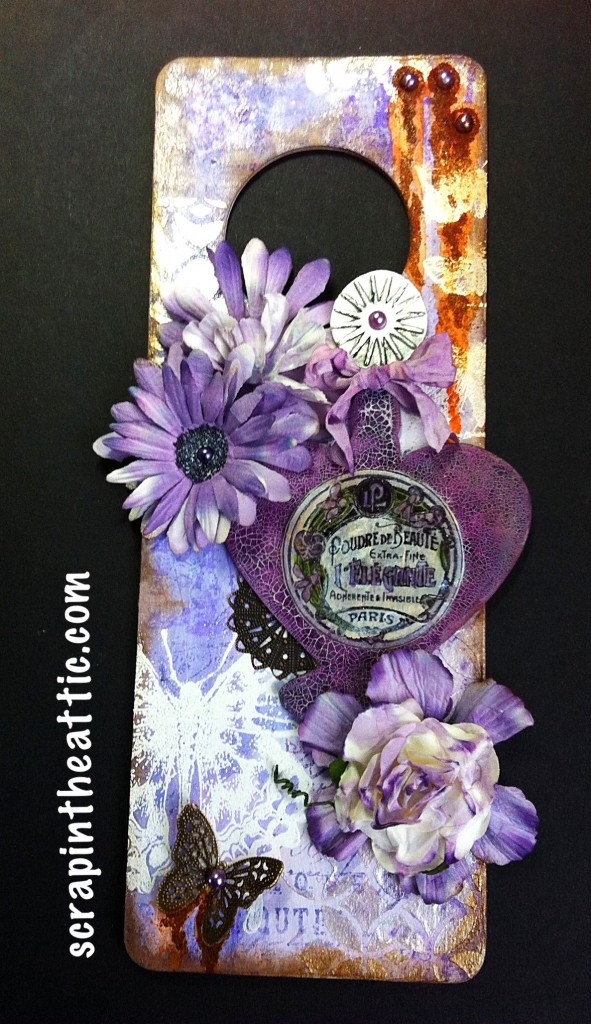 Welcome to my blog,
I decided to travel with A Vintage Journey on their new challenge.
I had to use grey board ( Doorhanger and perfume bottle), metal ( butterfly and charm), lilac/ purple colour and rust technique ( Distress Vintage Photo embossing Powder and Quin Gold Decoart paint).
When I read that lilac and purple were the colours to use I remembered old perfume bottles smelling of lavender belonging to my Nana, so that became my inspiration.
I really enjoyed creating the background. I started with white gesso then shades of purple paint which were then script stamped. I added White heat embossed butterflies and pearlescent texture paste through stencils. Mostly Tim products!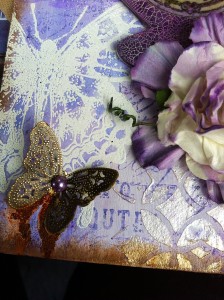 The perfume bottle had a coat of gesso then purple paint. When it was dry I covered it with Decoart Crackle Glaze then Antiquing cream in white to highlight the cracks. I had some perfume bottle stamps which I heat embossed onto tracing paper and coloured with spectrum noir pens.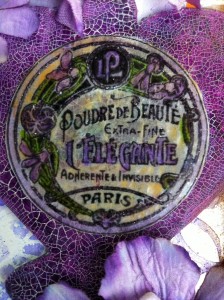 The ribbon and flowers were dyed with DI, wilted violet and Dusty Concord. The metal butterfly and charm had treasure gold rubbed on and then pearls added.
The rust was created with Vintage Photo embossing powder heated then diluted Quin Gold dripped on top to run down. Very satisfying process!!!
hugs
Jan x