I was so excited to receive Seth Apter 's Baked Texture embossing powders.
After a play I put them on a pencil box from Daisy's Jewels which is the perfect size to hold the jars.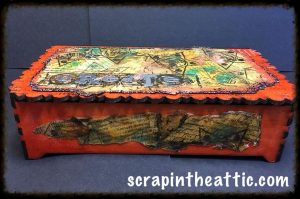 I started with a sheet of watercolour paper I covered in small pieces of collage papers, tissue paper, scrapbook paper and old book pages. The edges were inked with Vintage Photo DI.
I stamped the next layer with Seth Apter star and Archival ink.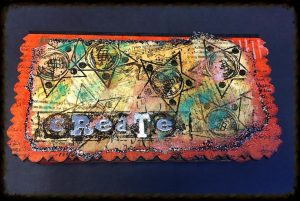 Then the fun!!! Three layers of Vintage Beeswax then sprinkles of Chunky Rust and Vintage Patina into the hot melted powder. The sides of the lid piece were edges with Tarnidhed Black powder. I added silver letters cut from a TH die.
When it was cool the backing peeled off the edges and tore into strips which I glued onto the sides and top. I had to weight it down whilst it was drying.
I assembled the box and painted it with DecoArt Quin Gold. I left the inside plain as I like the appearance.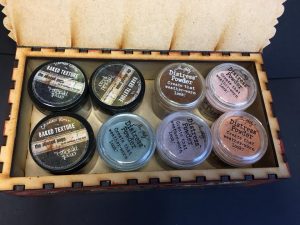 The lid was hinged with strong black tape.