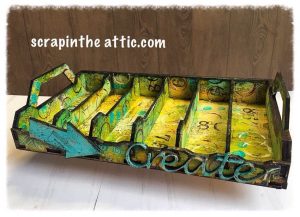 I really enjoy decorating storage items and this small mdf tray is perfect for paints or bottles. I have recently attended a workshop with Kate Crane at Ministry of Mixology and wanted to practise the techniques I learned with her.
First I laid out all the pieces and checked where they would fit, the dividers have a different fittings front and back. I used Decoart paint.
The colours were layered up from pale to dark. Remember to do both sides of each piece, I always manage to miss one side!I dried each colour before adding the next layer.
When I assembled the tray the front looked bare so I added a large mdf arrow and the word, create. The edges were all painted black and had a hint of treasure gold applied.
These trays are available from
Daisy's and Jewels