Here is the next page in my journey of discovery, creating an album with my TH dies. I bought the Apothecary Bottle die because I loved it but have not really used until now! The background was inspired by A Vintage Journey Challenge, "Just stain it" to used Distress Stain.
I used Tim's technique of swooshing paper through DS on my craft sheet. I used only metallic colours, tarnished brass and antique bronze which gave the paper a lovely sheen. Then I inked the blueprint embossing folder with Black Soot and put it through the Bigshot. I wanted an old, faded look with a hint of alchemy.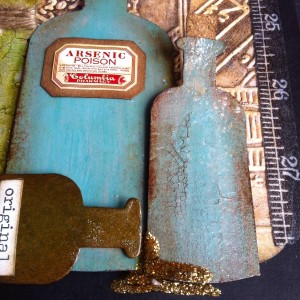 The bottles were treated ( or mistreated) with Distress Paint, crackle paint, glossy accents, Distress Stain and Inks. I thought it would be fun to have a bottle knocked over spilling the liquid gold from inside. I used cork as bottle stops, added labels and chitchat stickers. I wound string around one bottle neck to hold the label. I am definitely making more bottles, it is quite addictive!