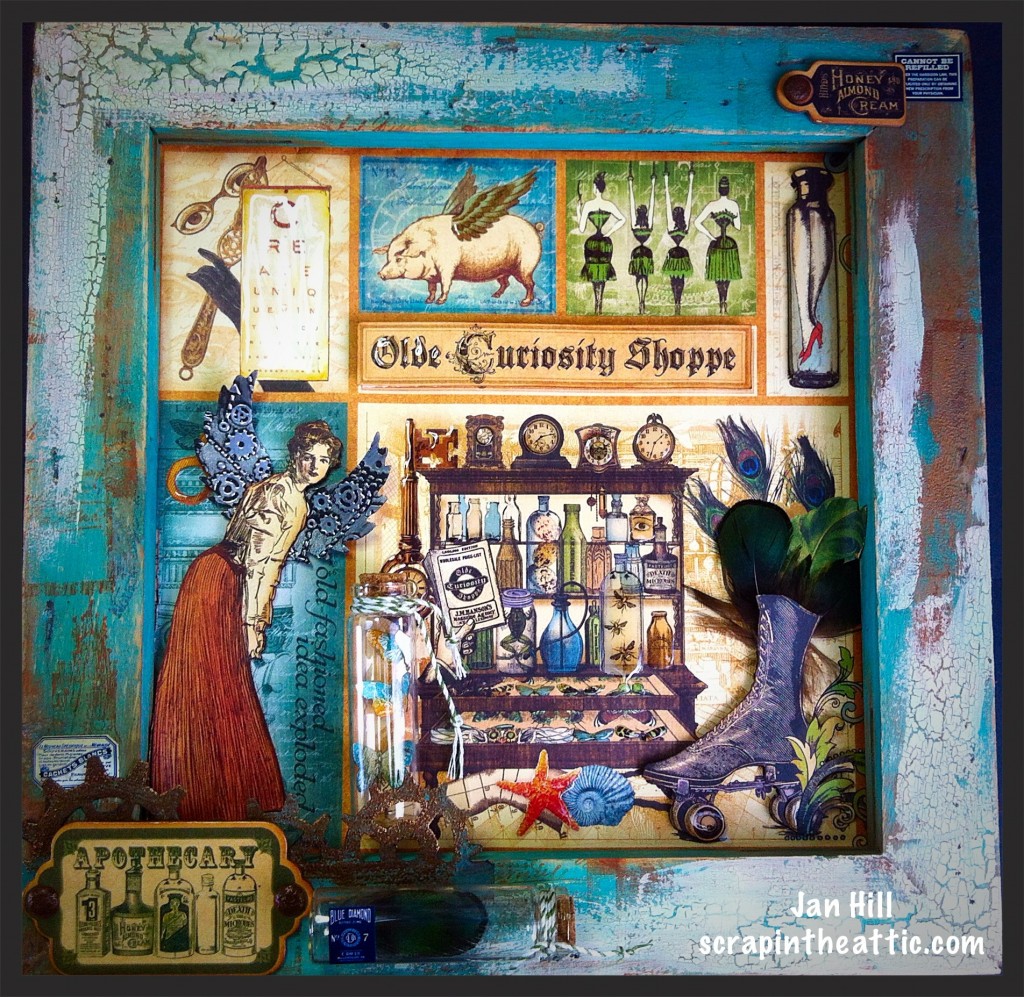 Our theme  at The Mirror Crack'd for this month is Wings. We want to see ANYTHING (apart from cards) you can create with wings.
Our host is Lin, and she will be choosing our Winner and Top 5.
Instead of a physical prize this month we would like to offer our Winner a Guest Designer spot for a future challenge.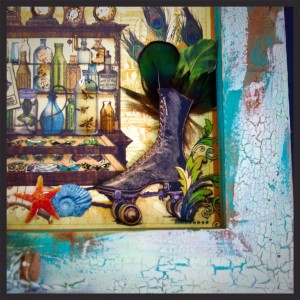 We hope our fabulous Design Team can inspire you. Please pop by their blogs and show them your appreciation.
I created a shadow box and used my favourite G45 paper to make the picture, I added mechanical wings to the female to let her fly, the poor thing looks so sad! I added feathers and butterflies in the bottles. The frame has lots of distress elements. It was fun to make but difficult for me to move away from butterflies, birds and dragonflies to stick to the Wings challenge!
I painted the frame with Distress Paint in shades of blue and green plus some copper. I painted Distress Crackle Paint in Old Linen over the top in areas, love this effect. Some crackle paints seem to work better than others and this is the one for me!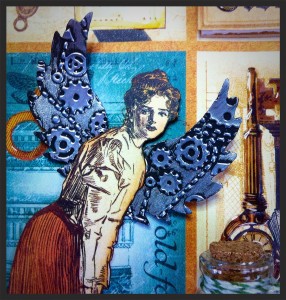 This is my favourite G45, Old Curiosity Shoppe paper, I have been saving for ages, the time has come to put it on display. I put glossy accents on different motifs to highlight them and added wings made from Plumbers Tape. The tape is stuck onto card then dry embossed with TH Cogs and Gears folder, then painted black and the paint wiped off after a couple of minutes so the black only and adheres in the recesses.
I had some irridescent  feathers in my stash which were perfect to tuck into the roller skating boot and a small bottle to continue the wings theme.
I had to get some butterflies in somewhere, so rubbed D I stress markers on my TH Pappillon stamp, stamped and cut them out and put them in a bottle.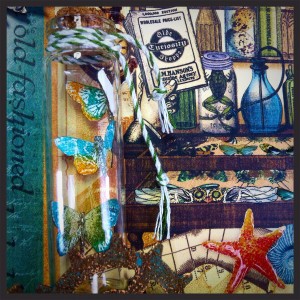 I finished with cogs die cut from and on the edge die
then embossed with Vintage Photo powder and
a couple of card tags from the G45 set.
I hope you have been inspired by the team
I am looking forward to seeing your creations!
Please leave me a message, I appreciate your visit.
Hugs
Jan x