Shari is the host for this months challenge at Our Creative Corner. This is her fun theme……
April Showers bring May Flowers
…Or so the proverb goes.  Spring comes late in my neck of the world, in the mountains of Northern Idaho.  In the month of May (with Summer just weeks away), our Spring flowers are still, usually, under a thin blanket of snow, until those Spring rains wash it all away.
This month, the challenge is to create something, a mixed-media project, a journal page, a scrapbook page, a card or tag…Anything, that reflects the Spring rains and/or Spring flowers in your part of the world.Now, I'm not going to nit-pic your choices of Spring flowers, as the growing season here where I live is short and our Spring flowers don't last very long before the blooms of Summer start budding.  So, if you throw in flowers of Summer into your creation, that's OK, too.
The DT have come up with some inspiring creations for you! Check them out at Our Creative Corner.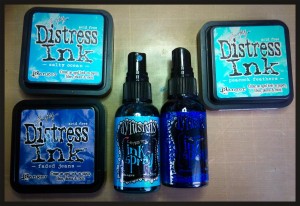 I decided to "Have a go" at my Art Journal! It has been gathering dust on the shelf, so I bit the bullet and started to first page. I enjoyed myself with Dylusions sprays, stamps and inks, a very messy affair indeed. I used Tim's spritz and flick technique to get the raindrops and blue shades for the May skies.
I rescued an old book and tore up some pages to stick on before spraying and inking the page. I wanted a spring like feel rather than a grey rainy day.
I stamped generic flowers shapes on top, a JOFY set and some unbranded from my stash. I stamped the JOFY flowers on a piece of watercolour paper then coloured them with Distress Markers. I fussy cut the flower heads and stuck them over the stamped images. I added a few silver skeleton leaves for texture.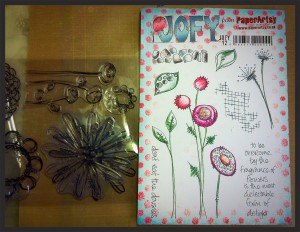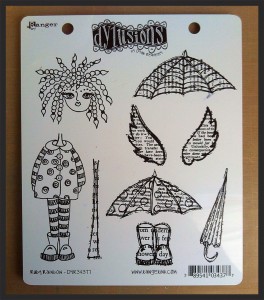 I love the JOFY stamp, "Don't eat the daisies" because last Spring my baby Granddaughter always ate the daisies in the lawn. I stamped the sentiment as a border and heat embossed with white opaque powder. I like the contrast with the blue background.
Now for the zany Dylusions character! I stamped and coloured her, plus her umbrella with Distress Markers. I am not a fan of colouring in but it was quite therapeutic.
I added Ryn's water drips at the top, they are just so detailed and as she is our sponsor this month it seemed fitting. The title was hand written on shiny paper and then positioned onto the sky. Phew! Finished!
My first step into Art Journalling was not as scary as I had thought! I hope it inspires you to have a go. There are some great prizes on offer from Ryn too!
I hope you have fun with the challenge and enjoy yourself! Please leave me a comment, I like to know what you think about my creations.
Hugs Jan x