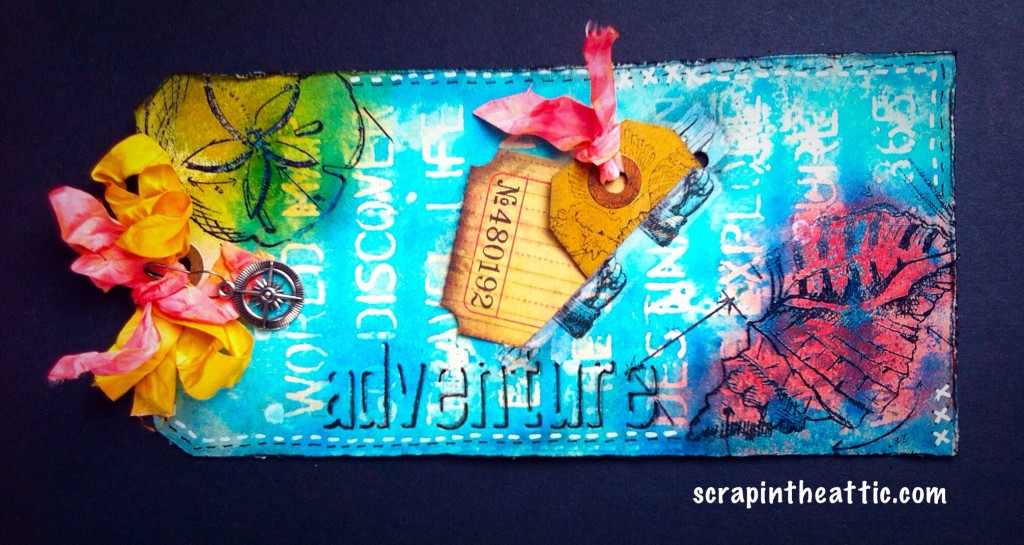 I am really enjoying making my Destinations Folio about our trip to the USA. I am working on our time at Hermosa Beach, LA, which we spent with my Granddaughter. I made this tag to fit between photo pages and souvenirs.
The background is a Layered Stencil Monoprint technique. I am entering Linda Ledbetter's CC3 Challenge 34, The Grand Finale, so you will need to find your copy of Tim Holtz book for the instructions!
This is the stencil and DI used for the technique.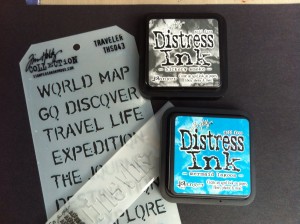 I stamped some Blueprints with Black Archival, clear heat embossed and inked the images. I created the drop shadow using an inked embossing folder, Tim's new tool certainly makes that much easier!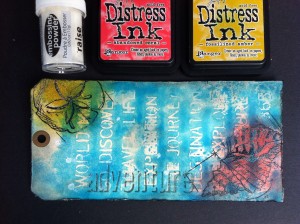 I cut a strip out to create a pocket for journalling tags, I stuck some tissue tape on the edge to strengthen it and inked with Hickory Smoke. A bit of faux stitching finished the tag. I dyed silk ribbon with Abandoned Coral and Fossilized Amber and tied in a loose bow before adding a compass charm.
I can't believe this is the last challenge from the book, I have loved the creative journey through the book and the inspiration from the DT, thanks everyone. I hope to win an awesome prize from Tim and Mario or  the generous sponsor The Funkie Junkie.
hugs
jan x