Florence loves chairs, she will spend lots of time trying out each one. When her sister had a birthday party in the garden Florence had the choice of 20 children's chairs. She was in her element! These were her favourite three.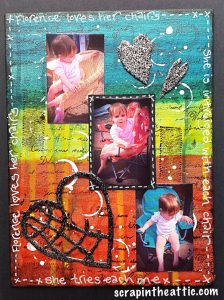 I began using India Ink and writing her name with the bottle dropper in each of the tree colours. I chose colours to correspond to the chairs. I let the colours dry a little then washed Irredescent medium across, this gives a wash of colour but you can still see the letters underneath. I dribbled colours on top.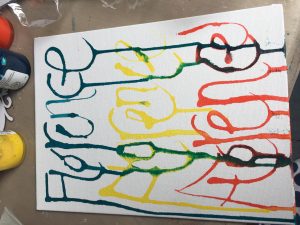 The Tando hearts were heat embossed with Tarnished Silver powder. I stencilled the text with black archival ink and stamped ribbon strips using Paperartsy stamp.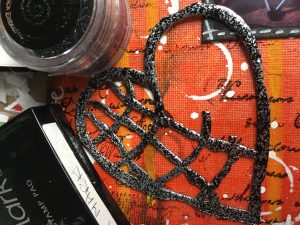 The central photo was mounted on black painted greyboard. I handwrote around the edges with a white Posca pen. I made a puddle and added bottle top prints and splashes.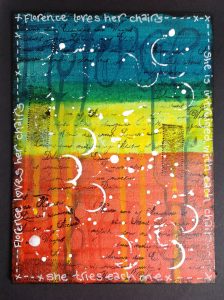 Hope you can see the concentration on her face deciding which chair to sit in!
Jan x