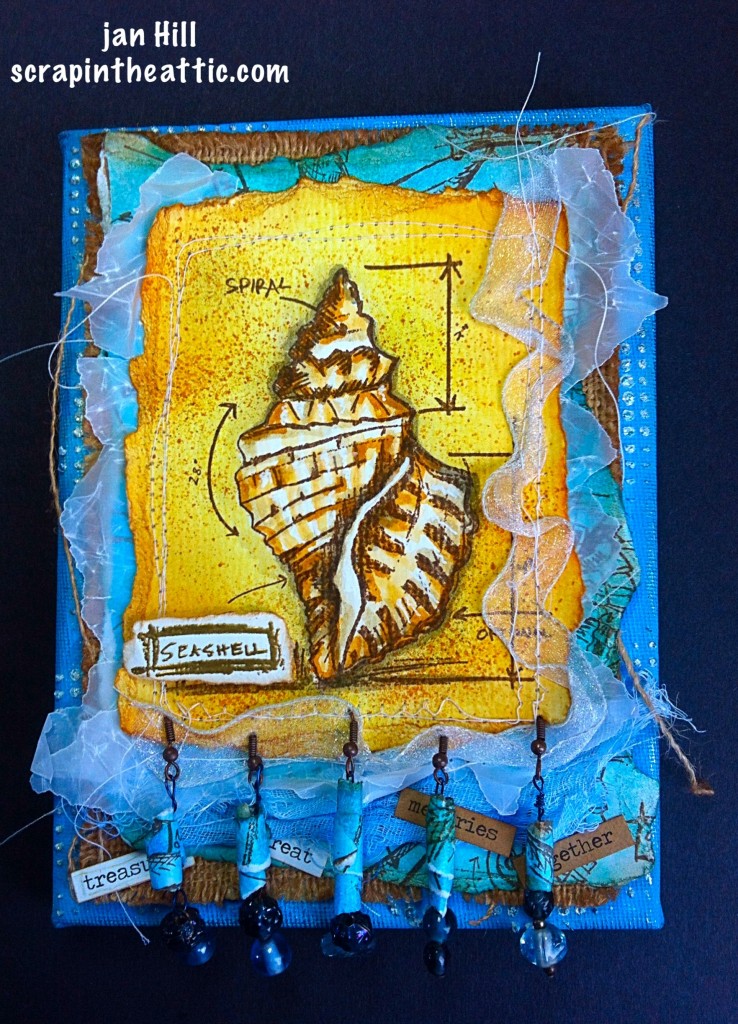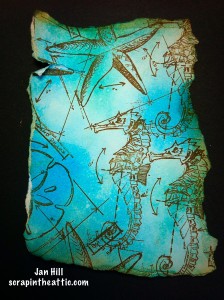 Whilst we were travelling around Australia we visited Phillip Island, home of Tiny Penguins and beautiful shells. I found a shell similar to Tim's stamp and recreated the colours from the original. It brings back so many happy memories.
The background ground for the shell was stamped with other images from the set. I used Potting Soil Archival Ink.  I used China Blue, Salty Ocean and Peacock Feathers to colour the sea.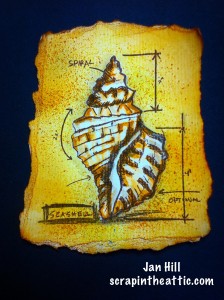 The Shell was created with the Distress Watercolouring – Part 2 technique in Tim Holtz Compendium of Curiosities 3 book. I can't tell you any details, you need your own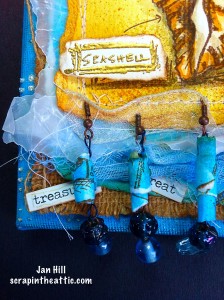 copy! I am entering Linda Ledbetter's Challenge 20. There are some amazing prizes from Tim and Mario, plus the sponsor Funkie Junkie Boutique.
I decided to mount the shell on a small canvas, painted with Salty Ocean and Iced Spruce Distress Paint. I stencilled Dot Fade with pearlescent embossing paste. Then I layered burlap, scrunched vellum, dyed muslin, sparkly ribbon and chit chat stickers. I sewed the layers together.
I wanted to give the impression of the sea and rolling waves so I made small rolls with left over background paper and wired them with glass beads onto earring hooks. I poked holes in the canvas and threaded them through.
The seashell word was stamped and embossed with gold to stand out on the background. I love the sand effects behind the shell. I used Mustard Seed, Spiced Marmalade, Scattered Straw and Pumice Stone.
I was really inspired by this technique to create the canvas. Hope you enjoy looking at it!
Please leave me a comment, I love reading them!
Jan x